Ivan Tenchev crowned World Wrap Master at Fespa 2018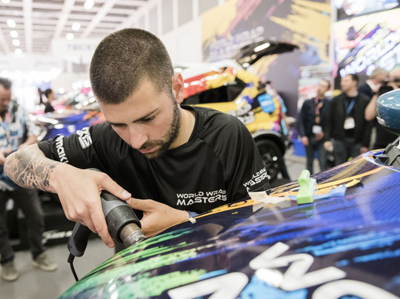 Ivan Tenchev has been crowned World Wrap Master
Ivan Tenchev from Bulgaria was the winner of World Wrap Masters Series at Fespa Global Print Expo 2018 in Berlin. Second and third prizes went to Casper Madsen and Jan Edelgaard, both from Denmark. All three winners received cash prizes. 
The Fespa World Wrap Masters Series is sponsored by Hexis and ran throughout the year, concluding with the last regional qualifying competition, the World Wrap Masters Europe, and the Series Final at Fespa 2018. 42 international competitors, including entrants from Japan and Australia, battled it out in a series of timed tasks. Stan Cosmin from Romania won the European competition, with Martynas Bertulis from Ireland and Casper Madsen from Denmark coming in second and third place.
The series final was held on Thursday, 17 and Friday, 18 May, with the three finalists from the European competition joined by winners from previous World Wrap Masters Series events. Finalists were challenged to wrap Suzuki Ignis cars and tricky objects such as curved chairs and square locker cubes. 
This is the first time Ivan Tenchev has been crowned World Wrap Master, but it is his second Fespa Wrap Masters title, having won Wrap Master Eurasia in 2016.
Mr Tenchev commented, 'After a lot of hard work and a busy week at Fespa 2018, I am extremely pleased and never thought that with all of the talent in this year's competition, I would win. The Fespa World Wrap Masters is a great platform where you continue to learn and share experiences with the other installers.'