Crescent Press invests in five horizon systems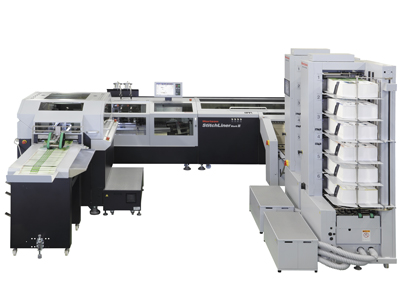 The Horizon StitchLiner MKIII can run at speeds of up to 6000 books per hour
Completing a £1.5 million digital print and finishing investment programme, Crescent Press has installed five Horizon systems supplied by IFS.
The printer has invested in a Horizon StitchLiner MKIII, Horizon Smartslitter, Horizon BQ-270v, Horizon HT-30 and Horizon CRF to support short run fast turnaround production on a new HP 12000 B2 Digital Press.
Andy Matthews, managing director, explained, 'We have made the investment to enhance our overall digital offering and enable us to offer a full range of printed products, produced in house with fast turn-around and minimal waste. It includes hardware and software to create a smooth and streamlined process with as few bottlenecks as possible.  
'The Horizon equipment, together with the HP Indigo 12000, all feature full automation to give the highest efficiency possible from order to completion of the finished product.' 
Crescent Press's Horizon StitchLiner MKIII has been configured with a high speed sheet feeder designed to take printed sheets from the Indigo 12000 and transform them into saddle stitched books up to A4 Landscape in format. The system can run at speeds of up to 6000 books per hour.
The Horizon Smartslitter will help the operation offer new services. 'We will now be able to offer new possibilities such as tear out coupons and short run business cards,' said Mr Matthews. 'It will help us maximise the capabilities of the Indigo press confident that we can complete the work.' 
Crescent Press has also created a complete perfect binding line for on-demand books with the Horizon BQ-270v Perfect Binder and HT-30 book trimmer.
With the Horizon CRF-362 Crescent Press can now crease, folding and perforate in one pass at speeds of 4500 per hour. 'Our old solution took half an hour to set up,' explained Mr Matthews. 'With the Horizon set up is in seconds. We can be much faster and that is what you need with digital print.'