Streets Process Colour expands trade service with Renz solutions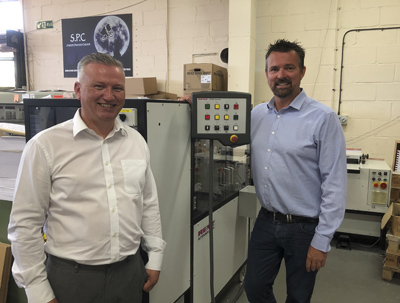 (L-R) Russell Cunningham, Binding Store managing director, and Richard Street, Streets Process Colour managing director, with the Renz AP360 high speed automatic punching system
Bringing wire binding in house, Streets Process Colour has chosen three Renz systems from The Binding Store and will also offer a trade service following its investment in a Renz AP360 high speed automatic punching system and a fully refurbished Renz Punch 500 ES and RSB 360 wire binder.
Managing director Richard Street explained, 'Just over two years ago we decided to start bringing all our finishing services in house to reduce turnaround times and ensure we had full control over the whole process. We recently won a big contract from the Salvation Army to wire bind work and that convinced us the time was right to make the investment. Now we can look to offer wire binding as a trade service.'
The AP360 can handle a range of mixed stock, fast die-changes, and has optional 2-part split dies for book and calendar work. It sits alongside the versatile Renz P500 ES that has ring wire, plastic comb and coil options, with a QSA (Quick Size Adjustment) for different paper formats and horizontal paper feeding. Completing the trio is the 2000cph RSB 360 for binding with a variety of wire diameters on bind widths of up to 360mm and books up to 20mm thick.
Mr Street added, 'We did look at what was available on the market but we liked the Renz systems because of their level of automation. They were easy to use, quick to set up and very cost effective. There is no need to spend lots of time getting jobs on them so we can be very productive very quickly.'