Speedy screening sorts the inkjet smile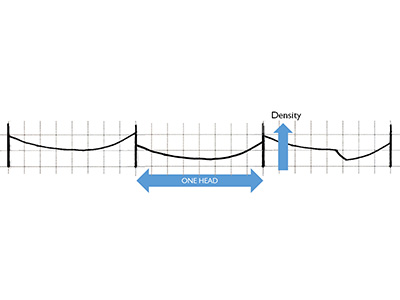 New PrintFlat technology compensates for density changes in printhead performance 
Global Graphics has introduced v2 of its Screen Pro software, which brings speed and quality improvements in continuous-tone image printing in high-speed inkjet printers.
Available as a stand-alone application that can be integrated into workflow offerings and DFEs that use the Adobe PDF Print Engine (APPE) as well as in Global Graphics' Harlequin RIP implementations, Screen Pro incorporates the Mirror and Pearl technologies announced earlier this year and adds further software correction for non-linear behaviour in inkjet heads that leads to banding.
The density of output across an inkjet printhead can vary leading to a 'smile' profile (see picture above), the effect is made worse in multi-head print arrays and over time as individual heads are replaced in printer designs that permit this. Product manager Tom Mooney explained, 'We correct for this in software, not via voltage control, in real time. This gives fine granularity and allows the use of the same voltage across all printheads, maximising their lifespan.'
Speed is the other half of the equation. Mr Mooney said that v2 of the Screen Pro software, which was originally introduced two years ago, is now two-and-a-half to three times faster, which 'leads to more sellable print', particularly in labels, packaging and décor applications such as wallpaper, where banding is particularly unacceptable. The technology is scalable, allowing for multiple parallel instances to run in demanding applications such as in current and forthcoming packaging and retail display machines where high resolutions and large imaging areas are required.
Screen Pro v2 is available immediately. Global Graphics said it has several OEM customers already but declined to name them.