A little label goes a long way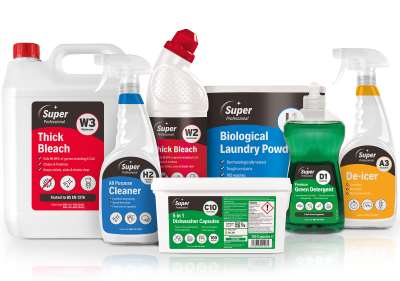 You don't have to buy an expensive label press to develop a presence in the label market. Digital Printer looks at two producers of short run labels, and the technology they chose to maximise the opportunity.
The label market is a growing one for printers, and need not be considered a path only for specialist label printers using dedicated converting equipment. For the general commercial printer, there may already be opportunities within their existing customer base that are waiting to be tapped, as well as untapped prospects that are unaware of how cost effective short-run, digitally printed labels can be. Although label converting may require some specific skills and technology, these can generally be acquired at a reasonable cost.
In addition to that, many of the comparatively low priced digital label printers available are generally more than capable of handling a range of other work, taking much of the risk out of investing in such systems. The following two case studies showcase printing systems that are great for low to mid-range volumes of labels, while also offering great flexibility for users.
Delivering pure chemistry in Coventry
With a typical weekly output of around half a million bottled products, Coventry Chemicals' requirement for labels is significant. However, aside from the high-volume label runs produced by conventional converting techniques, the firm also has a need for short-run bespoke labels, and occasionally has to make up for shortfalls in its label forecasts.
To do so, and to improve on the quality that was being delivered by a previous in-house digital printing system, it invested in an Intec Printing Solutions LP215+ roll-to-roll label printer, which it initially saw at the 2014 Packaging Show. Demands from customers can fluctuate, so the 2000 labels per hour Intec LP215+ performs a handy role in meeting order requirements that don't fit into the two-week lead times of Coventry Chemicals' normal litho and digital suppliers.
Vivid colour, sharpness and 100% colour-fastness offered by the Intec unit were among the factors that influenced Coventry Chemicals' decision to purchase the system. Andy Robilliard, the firm's supply chain manager, said: 'The quality of the Intec LP215 output over our previous inkjet model was a key consideration for our purchasing decision, along with label durability to light exposure and liquids.'
There are some strict guidelines around labelling of chemical products, and Coventry Chemicals has availed itself of Intec's expertise and its relationships with suppliers such as UPM Raflatac to source the appropriate media types. It uses pre-cut labels for its chemicals, cleaning products, detergents and trigger sprays, sourcing these from PPR Label Media, with the cut matrix "retained", enabling it to print with bleed across the edges of the label.
While this is the option that Coventry Chemicals has chosen, it is not the only way of working with the Intec printer, according to Intec Printing Solutions' product and marketing manager Terri Winstanley, who explains: 'The LP215 has been designed to offer flexibility to users for the delivery of either pre-die cut labels, or continuous media for finishing using an offline laminator and any shape label cutting machine. Customers can use either option or both for their changing production environments. The flexibility of the printer also extends to the substrate types that it is able to handle. Being a dry, toner-based system, it has a much wider variety of face stocks that it can handle, from paper to polyesters, GHS, PET and BOPP approved media, for the widest range of industries requiring labels. Synthetic labels are chemical- and waterproof, making this ideal for harsh environments.'
The ability to under-print white and offer white spot elements on labels using clear and coloured media means the system is suitable for applications such as cosmetics and beverages labels, as well as being able to produce decals and stickers on clear films.
Job costing is an integrated software feature and can be managed to report just printing costs or total job costs including the media. Colour management is provided via specific colour profiles that are provided with the system as well as the ability for users to build their own profiles.
Ms Winstanley added: 'The LP215 has been priced so that it is a low-risk proposition for those wishing to enter into the lucrative label printing market. They do not need to order large volumes of standardised label shapes and rolls, as the option of the continuous roll media enables flexibility of use and label shape when used in conjunction with the LCF215 finisher. This ensures that companies can offer quick turnarounds and diverse or bespoke label options.'
Print-and-cut is the Handy solution
A signage company that saw a growing market for labels and consequently evolved to service it, Handy Labels launched a new website in 2017, showcasing a wide range of label products that its two Roland DG Soljet Pro 4 XR-640 printer/cutters can produce. The website is worth looking at for any printer interested in investigating the label market (it's at www.handylabels.co.uk). It categorises jobs by shape, material and type of product, such as waterproof labels, return address labels, cosmetic labels, and various others.
The Portishead company has a minimum print run of 25 labels and offers a simple free design tool on its website, while also having an in-house graphic design team available if needed. It attracts small artisan businesses as well as blue-chip brands, and says that anything from candle companies to gin makers are typical customers.
'The Rolands really came into their own on labels,' said Michelle Jones, business manager at Handy Labels. 'They handle lots of different material changes in one day and can even be left working overnight.
'We're in premises where we can expand – packaging is the next move for us – but we don't want to get too big. All of our work is hand-finished and we make sure we're happy with all orders we send out. We're really proud of what we produce,' she adds.
The versatility of the Roland printer-cutters has allowed Handy Labels to explore the label market. The Soljet XR-640 has been a popular choice for label printing and packaging because it is possible to print several sheets of stickers on gloss vinyl and then switch to printing on banners in a matter of minutes. A take-up system lets users print longer runs overnight on a variety of media, if required.
Rob Goleniowski, Roland DG's head of sales for UK & Ireland, advises: 'For small print businesses looking to branch out, the best advice would be to invest in technology for what they could produce, not just what they currently produce. Time-hungry customers will always appreciate a one-stop-shop for any of their business needs and print is no different. If you can offer labels as well as signage and banners, nine times out of ten, they'll gladly choose you over a less equipped business who only try to compete on price.'
The label business is certainly going well for Handy Labels: when last it counted, it had printed more than 88.5 million labels, with 99.8% of orders dispatched within 48 hours, and with 42,000 returning customers. 'The Roland Soljets have been running night and day for over a decade, and are still going really well. They just keep printing,' says Ms Jones.
If a venture into digitally printing labels really takes off, there are plenty of dedicated high speed digital label presses, covered regularly in our sister magazine Digital Labels & Packaging. But if you're looking for a cost-effective way to expand the portfolio of services you can offer without needing major investment or re-skilling, start here. Get stuck in.