Cutting-edge automation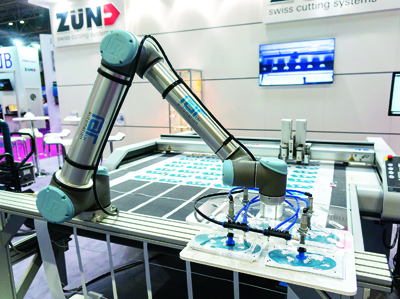 Robot arm stacker on a Zünd table
Trimming paper or other media is one of the most fundamental of finishing tasks, and one that can increasingly be automated. Simon Eccles cuts to the chase.
Nearly every job that gets beyond the basics of simple-sheet duplicating neds cutting or trimming. The vast majority of it still uses metal blades of some sort, whether in a power guillotine, a rotary blade cross-cutter in a multi-finisher, or a moving computer-controlled blade in an XY cutting table. Lasers remain a comparative rarity outside label printers, and are used for specialised short runs or variable shapes.
Thanks to the addition of computer-controlled servo and stepper motors that allow adjustments without spanners, such cutting systems are great candidates for automation. This can range from basic computer control of motors through pre-programming, remote job list set-up and feedback reporting, up to transformation into fully robotic systems (or the addition of robot load/unload modules). Cutting tables and lasers are computer-controlled by definition. 
More sophistication can be added in the form of management information systems (MIS) with intelligent production scheduling modules, communicating directly to production machinery. This can be the basis for the "smart factory" concept that's also being called Industry 4.0.
Guillotines have been programmable for at least 40 years, initially through on-board microcomputers and servo/stepper motors. These gained networking to remote PC programming in the 1980s and so were easily integrated into shopfloor data collection systems in the 1990s and on to links with MIS via JDF/JMF job control and/or proprietary systems (Horizon's pXnet or Polar's Compucut for example). 
Polar-Mohr is one of the biggest German cutter suppliers. Heidelberg is UK distributor for the Polar range, which is available with cutting widths of 56 to 176cm. The smaller 56 and 66cm models are large enough for most digital presses. 
Polar's recently introduced Compucut GO system offers entry level "easy automation" for compatible cutters. It links to a pre-press workflow that exports JDFs to a hot folder on a PC linked to the guillotine. It takes the print layout from the JDF and automatically calculates the optimum cutting sequence on the guillotine, programming the movements and presenting them to the operator. Polar calls this "plug-and-cut," as the link from pre-press to guillotine is entirely automatic.
The standard Compucut system costs more but does more too – it allows for user intervention to modify how the sheets are handled, and it can link several networked cutters, whereas every GO PC serves a single guillotine.
For the past few years Polar has sold an entry-level brand called Mohr in 56 and 66cm widths. Watkiss Automation is the UK distributor. Some are standalone cutters, but the models with Net designations can include Compucut. 
In the Heidelberg world, its Prinect factory-wide network system can communicate with a whole range of its own or partners' products directly, or indirectly via JDF. Third-party MIS can then plug into Prinect and run the show if necessary. 
Horizon takes a similar approach. IFS is UK distributor for Horizon, which as technical sales director Jason Seaber points out, makes at least one system in every major category of sheet-fed finishing. Its cutters include guillotines, rotary diecutters and a multi-finisher called the SmartSlitter. 
Mr Seaber says 'pXnet connects Horizon systems using job tickets. The concept is to eliminate manual job keying on the shop floor as much as possible. A pXnet job on the server can generate a barcode for the job label. All Horizon systems have barcode readers, so the operator scans this. 
'The machine then requests a JDF file from the server and converts this into the internal machine language to set the machine. The data is repeated onto the screen for the operator, who then chooses when to start the job. JMF data is also generated on the run that can be fed back to an MIS.'
Get my drift
He points out that ideally the cutter will have a camera system to detect the actual position of the print on the sheet, as digital presses tend to drift. 'JDF on its own is not completely accurate as it doesn't know about image shift.' 
Esko dominates the market for folding carton pre-press and has a big chunk of the flexible packaging and labels market too. It owns Kongsberg, maker of digital XY cutting and creasing tables. The Esko Automation Engine is a modular pre-press production system that drives Kongsbergs directly, and third-party finishing systems indirectly via JDF/JMF or customised XML. 'We're  working actively with several partners to create tighter bidirectional links,' says Paul Land, product manager for Automation Engine at Esko. 
The Automation Engine can take structural data (which defines cut and crease positions) from Esko's own ArtiosCAD system or third-party CAD systems, integrates that with the printed image data (as PDF or AI files), then generates the step-and-repeat or nesting layouts for both the printer and the cutting patterns.   
Kongsbergs can be fitted with the i-cut camera system that registers the head to marks on the printed sheets (or to sheet edges on blanks). Esko has also developed its own robotic load/unload systems, which likewise are set up by the Automation Engine.   
Automation Engine's Connect Module talks to the third party products, including MIS from the likes of Cern, EFI Radius, Tharstern, Optimus and others that can co-ordinate job creation and monitoring. 
Friedheim is UK distributor for the Baumann Wohlenberg line of guillotines and handling systems. Pre-press data can be transferred into the guillotines via USB stick, Ethernet or WiFi. The Windows-based CIP4 data module can accept JDF (CIP4) or the earlier PPF (CIP3) data. This creates the cutting program with no need for an additional PC.
Baumann's Delta system permits loading from a jogger and unloading onto a delivery stacker. The BDG module permits automatic loading and cutting, although the guillotine operator is still needed. Turning and aligning of the reams on the cutter's rear table, as well as the cutting, are carried out automatically. The cutting process and the BDG are controlled from the guillotine. This is complemented by the Baumann BDG-e automatic positioning system. This links the BSB 3L jogger, which aligns stacks and transfers them to the side table of the guillotine. 
When the operator finishes cutting a stack, the cuts are de-stacked by the unloader, while the next ream is automatically transferred onto the front-table of the cutter. Pushing the ream into the high-speed cutter, aligning it precisely and trimming all four sides are automatic. The operator is freed to load the next ream in the automatic jogger. Perfecta guillotines, supplied by IFS, can be arranged in similar configurations with Baumann BASA automated jogging and feeding. 
Friedheim also offers the Schneider Senator guillotine range. This company was an early pioneer of programmable guillotines in the late 1960s and today its models can be assembled into complex fully-automated lines with pairs of guillotines aligned at 90 degrees, with Gerhard Busch systems for automatic loading, transfer and unloading. 
These highly automated materials handling lines are really intended for large sheets and high volumes, so digital applications are probably comparatively rare. 
Hunkeker specialises in roll-fed paper handling systems with roll-to-roll or roll-to-sheet processing after the press. Its latest product line is called Generation 8 and emphasises automation. For example its Roll-to-Cut/Stack line combines the CS8 rotary cross-cutting module and LS8 offset stacking module to convert a continuous web into one or multiple offset stacks. Web widths of up to 570mm are processed at speeds up to 180m/min, while the DynaCut function for variable-format production allows cut-off length changes on the run. All of this is controlled by Hunkeler's Workflow Manager, which plans and prepares jobs, controls production lines, monitors processes.
Lasercomb, originally a pioneer of laser cutters for cutting and creasing forms, recently introduced the CMS range of cutting and creasing tables which use metal tools, not lasers, and are intended for packaging sample cutting and short-run digital packaging runs. These integrate into the user's network for remote set-up as well as remote support. Again, Friedheim is the distributor. 
Duplo pioneered the modular multi-finisher concept more than ten years ago, and has since expanded the idea to a whole range of models from entry-level (the new DC-516) to high volume (DC-746). All can take "long" SRA3 sheets up to 999.9mm. The firm showed a prototype model with JDF links to an HP Indigo in the early days, but this took several years to get into production. Today JDF is still only available as an optional configuration for the next-to-top DC-646 model, though managing director Andy Benson says that it would be logical for the DC-746 to adopt it in future. Although JDF is designed to be universal, the DC-646 DF essentially  only talks bi-directionally to the SmartStream controllers for HP Indigos. 
Terry Cooper Services (TCS) distributes the Challenge and CCM Premier ranges of guillotines, both of which have options for either remote or JDF programming. Challenge Titan 200, 230 and 265 cutter programming can be set up on a separate PC, then transferred by USB stick to the guillotine's built-in touch-screen controller. There's a facility to convert JDF data into programs. The higher-end CCM Premier models can be networked to accept JDF job files. 
Finally, Ultimate TechnoGraphics' Bindery software is a rare "standalone" system aimed at finishing automation. It is has just been updated to v.5.1. Ultimate is best known for its long established Impostrip imposition software. Bindery is described as a "finishing engine," said to eliminate manual make-ready and the need for trial runs by "preflighting-for-finishing".
It can take any imposed JDF job and add the parameters needed to automatically set up finishing equipment. It can communicate with a list of supported inline and nearline finishing equipment, including cutters. It acts as a JDF hub and can connect "upstream" workflows including Enfocus Switch, Aleyant, HP SmartStream and Xerox FreeFlow Core with "downstream" finishers from a long list of manufacturers, including CP Bourg, Duplo, Horizon, Daheo, Meccanotecnica, Perfecta, Plockmatic, Polar-Mohr, Tecnau, and Watkiss.
The days when finishing was regarded as the manual-intensive "Cinderella" stage of printing are long gone. What's remarkable is that finishing is in now many ways the flag-carrier for the move to roboticisation and, yes, Industry 4.0.