Bonacia moves forward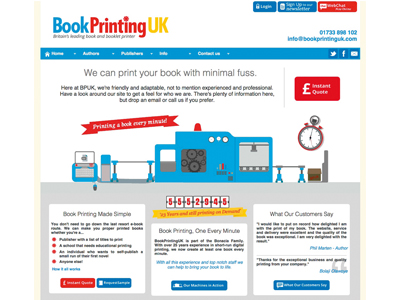 Peterborough company Bonacia has several publishing interest attached to its book printing arm – Book Printing UK – and its ambition has only just been fired.
Doors have been opening and horizons widening since Bonacia entered a book into this year's Print, Design & Marketing Awards, run by Digital Printer publisher Whitmar Publications. The entry – a title called The Magic Chair – was nominated in its category, and Rosie Walton, the 29 year old managing director, went along to the awards ceremony with her sister Morgan, 27, who is also a director. Ultimately, the award went elsewhere, but the event itself, and subsequent attendance at the London Digital Book Forum a fortnight later, has made a profound impression it seems.
'We were happily sat here not really knowing what was going on outside before the awards,' Rosie Walton told Digital Printer. 'But we are now both really excited about where we can take this. It has opened our eyes to what we need to do to grow. We have always been quite a small company and going to the Book Forum made me think we could become a massive company. It has opened my eyes to the possibilities.'
Things have certainly moved quickly, even since the Print, Design & Marketing Awards on 11 June 2015. It was there that the two sisters had a first conversation with Xerox about a new mono digital press, and the press – a Nuvera 314 – has been installed already.
Who or what is Bonacia seems a fair question at this stage. Its genesis was in the Walton sisters' parents, who ran Forward Press in Peterborough, and who established Young Writers to promote poetry and creative writing in schools a couple of decades ago. Forward Press went under a few years ago. 'It got so big,' explained Rosie Walton, 'that it just could not cope. We went back to basics, stripped everything down, did a business plan, and five years on we are making a profit.'
There are several strands to the £3.2 million business: most appropriate to the discussion here is Book Printing UK, which specialises in short run digital printing, and has done (including its days as Forward Press) for more than 20 years. It offers a range of services for authors and publishers. Additional divisions include: the aforementioned Young Writers; Leavers' Books, where primary school yearbooks can be created for £9.99; self-publishing arm Spiderwize; and Nursery Resources, offering a wide range of professionally printed products for that market.
The business employs 72 people altogether, and is experiencing significant growth in book printing volumes. 'Book Printing UK has gone mental,' Rosie Walton smiles. 'Up to 2009 it was printing 15,000 books a year, and now its 80,000 a month. Every year it gets bigger and bigger.'
Printing is on two Kodak Nexpresses for colour and some old Digimasters and the new Xerox for mono. The company's success, though, is mainly down to front end technology, she says. 'Customers can go online and get an instant quote for a book. Our web team and IT team have really helped push the business forward massively. We've got our own in-house database which we started five years ago. We are just getting MIS in and we've not got any workflow at all; that's the next step. We have focused more on customer usability, and that's why we have grown so much. It's so easy for customers that we get a 15% conversion to a buy from people going onto our quote system. We're not fussy about files; people can send a Word document.'
This all means that Book Printing UK is not the most automated print operation that you will see in the country. This has not been as important as might be thought, although the workflow is now a priority. Typical runs lengths have been around the 200 mark, and the operation is not really set up for print on demand.
'Print on demand was not somewhere that we saw ourselves,' Morgan Walton continued. 'At the London Book Forum, everyone was talking about printing one-offs. If everyone chases these one-offs and we just stay where we are with the 200s, then that will be our growth area. We can do runs of one but that's when we have created the book ourselves and we're selling it at £14.99 per book; there isn't a publisher taking most of the money. Everyone else is chasing that one-off market and let them keep chasing.'
As a mark of its difference to most printers, the in-house technology team at Bonacia has developed a drag and drop front end for Leavers' Books that has been licenced externally, giving the group another revenue stream. Ambition has certainly been stirred by recent events. 'We want to focus on pushing the boundaries of technology,' said Rosie Walton, 'and invent new things.'