Smarter software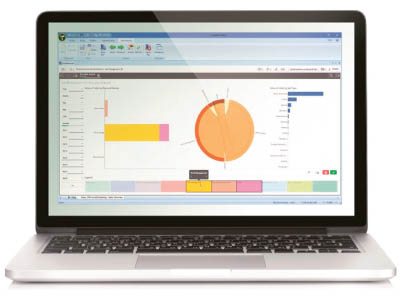 The new Business Intelligence module makes it easier to turn data into actionable insight
Use data to make better decisions with Tharstern's Business Intelligence module.
Keeping an ear to the ground is essential for any business to know what customers want and what new technologies are needed to deliver that. It is true for printers and their suppliers and is why MIS provider Tharstern takes feedback very seriously. It holds user events and focus groups throughout the year to gauge interest in new integrations and find out how users want their MIS to evolve. The past 12 months have seen the same three topics crop up again and again: business intelligence, ganging and integration – the latter being consistently featured at the top of the list for many years.
Business Intelligence
Business Intelligence has been a key priority for printers ever since the start of the economic downturn when the drive to cut costs and reduce waste became a primary concern. So the MIS was used to generate KPIs and produce financial reports that helped to track these key metrics on a monthly or weekly basis.
But now printers are asking for more. They want their data to be more accessible so that they can analyse it. Most of today's MIS solutions are built around some form of SQL database and this means that users generally need to have specialist database or development skills to extract the data within it. But the industry wants this to change; a key priority for Tharstern's users is to improve their Business Intelligence and make full use of the data within their MIS.
And Tharstern agrees – what's beneath the hood of an MIS is incredibly powerful and, if exploited properly, can give you an edge over competitors that don't have access to rich information on their business.
Getting smarter
To give their users access to this intelligence, Tharstern created a new data layer which sits above the SQL tables. This layer presents the information in a business context, allowing the user to analyse relationships between products and departments. It uses a simple drag and drop interface to let users do things that were previously only possible using expensive and time consuming database query and analysis. There are standard KPI dashboards that come with the module and that were developed during focus groups with Tharstern customers, and users can also create their own.
Ganging
Whilst most printers agree that ganging is a good idea, many also admit that they don't do it. They understand the benefits it brings (more capacity on their equipment, more saleable hours, increased order values, quicker turnarounds), but many find it too complex a process to be worth their time.
There are several reasons for this. To gang effectively, you need somebody to be aware of the details of every job in production (what they're being printed on and the delivery date for example) to decide which will be ganged, every department needs to be informed and the job bags and scheduling board updated. Finishing and job tracking can be difficult too.
Advanced Imposition simplifies the process of ganging jobs, making it a
practical proposition
Join the gang
Tharstern's customers asked for a solution in the MIS so that they can gang jobs without any of these difficulties. The result was their Advanced Imposition module, which automates these time-consuming processes and allows users of all levels of experience to create production ready impositions. It works with most types of jobs – books, booklets, calendars, business cards, cartons and labels.
Integration
This topic continues to top the priority list for printers. The results of this month's Smart Directions survey confirm this as a key objective throughout the industry.
Tharstern is already known for its integration expertise, and its offering in this area continues to evolve year on year. So a new integration isn't exactly big news for Tharstern customers, but it is another example of the company listening to feedback and developing solutions and integrations requested by users. 
The new Courier Integration module enables Tharstern users to organise delivery services without having to leave the MIS. By integrating with external courier companies such as Fedex or UPS, deliveries can be booked from within Tharstern and costs included in post analysis. The module also supports integration with JobWatch from BigChange Apps, which means that in-house delivery vehicles can also be included. Users can get updates on delivery statuses, receive notifications on deliveries and view Proofs of Delivery – great news for delivery tracking but also great news for customer service updates!
Being resourceful
A trend that's prevalent in every industry these days is having access to online resources and Tharstern has delivered on this too. Last month it launched a new Resource Centre for customers, which contains troubleshooting articles, how-to guides and video tutorials about their MIS.
The site also contains a user forum where members can discuss ideas, ask each other questions, share best practice and even collaborate on projects together.

This article is an advertorial; the featured company created the wording and paid for its placement. It has been thoroughly checked by Whitmar Publications to ensure that the information is accurate and meets our standards.
Read the December issue of Digital Printer online here