The dynamic duo turn two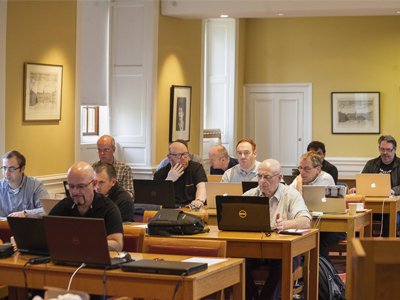 Class in session: developers test JDF 2.0 software at the CIP4 InterOp in March
This year will see both PDF and JDF reach version 2.0. Michael Walker looks at what the number change signifies and how the updates to the standards will affect print production.
In the software world, a release number change after the decimal point means an incremental update, sometimes not much more than bug fixes or minor functionality tweaks, while a change to the left of it means a major revision that brings new features, often at the cost of compatibility with older versions. The numbering convention has crept into more mainstream usage, with "web 2.0", "industry 4.0" and even "empire 2.0" being thrown around.
So what does it mean when print production standards like the Portable Document Format (PDF), introduced by Adobe the early 1990s and granted ISO status in 2008, and the Job Definition Format (JDF), developed by the CIP4 consortium in the early 2000s, reach 2.0?
The PDF 2.0 specification is due to be published this month. PDF 2.0 will offer improved halftoning support that will benefit flexo users. It will also allow for production of different parts of a document on different devices or stocks, such as the personalised cover letter of a direct mailer on one stock and other inserts on something else, or a booklet with its cover printed on one material and inners from a different tray on a digital press, with correct colour management for all the devices, ink and stock materials.
Making much of metadata
This is enabled by allowing metadata for specified ranges of pages rather than just for the document as a whole, a capability borrowed from PDF/VT, the PDF version developed to support variable data printing operations. 'This will have real value when ISO 21812, which defines semantics for metadata, is released, as it will allow workflow-, developer- and vendor-independent metadata,' says Martin Bailey, chief technical officer at RIP developer Global Graphics.
That may be a little way off, however, as there's not yet a formal release date for the new ISO standard, but it's hoped that it'll be by the end of 2017. In terms of implementing PDF 2.0 in real-world products, Mr Bailey confirms that Global Graphics has been previewing the technology to its OEM customers and that it will be supported in the next major release (v12) of the Harlequin RIP, though he wouldn't set a date for that. Other PDF 2.0 features include better and more consistent handling of colour and transparency issues when processing pages or impositions that contain elements from multiple sources or with differing levels of colour tagging.
Hosted by Imprint MIS, the CIP4 InterOp event took place in the tranquil surroundings of Clare College, Cambridge
In terms of preparing for PDF 2.0, Mr Bailey advises starting at the back-end by upgrading the RIP or DFE first, then putting in the tools that generate or edit PDF 2.0. 'Printers are going to receive PDF 2.0 files eventually,' he comments, adding, 'They should aim to educate their customers and upgrade their tools as soon as they can.'
If they don't, there's a danger that the use of a PDF 2.0-specific feature in a job file may cause a pre-flight alarm or worse, be ignored completely and cause an output error that's not apparent until plates have been imaged or digital prints made. Mr Bailey emphasises that PDF 2.0 is about 'evolution, not revolution' and that while there is no requirement in the 2.0 specification for compatibility with earlier versions, it's extremely unlikely that anyone would ship a PDF 2-capable product that could not also process the earlier (PDF 1.7) version.
Learning from experience
Like the new version of PDF, the developments in JDF that the CIP4 members have been working on are very much based around solving problems that real-world experience with the current version has revealed, and a key player pushing for these developments is Germany's Flyeralarm, which is already trialling the technology.
Heidelberg's Rainer Prosi explains the problem with current JDF thus:
'We have an "uber" job ticket that covers everything from prepress to delivery. We were thinking of a "flowing" JDF in which this information went from A to B to C, but it needs to be more like a star or spider's web with communications between a central MIS and various devices in parallel.'
This view is echoed by imprint-MIS developer Dean Anderson who explains, 'Change management is a big problem, for example if a publication becomes 32 pages instead of 28. Updating on the fly is doable but difficult under [current] JDF. The hub-in-the-centre model can manage this.'
There are two new things coming out of the CIP4 camp. A revision to the JDF standard to JDF 2.0, which embodies this new MIS-centric arrangement, and XJDF, a 'baby brother' to JDF which contains a simplified set of instructions and can be edited with commercially available XML editing tools which are now much better developed than in the early days of JDF. XJDF also builds on the common "vocabulary" of print terminology that had to be developed for JDF and so should make it much quicker and easier to integrate components in a workflow.
'XJDF is simpler and smaller, not the all-encompassing job ticket,' elaborates Henny van Esch of Optimus 2020. 'That "blob of data" still exists, but it's held in the MIS, which emits tailored files with specific information.'
As with PDF 2.0, support for JDF 2 and XJDF is likely to be rolled out incrementally as the various MIS, prepress, press and post-press vendors incorporate it into new releases of their products. However, there is still some uncertainty over how strongly it will be supported, as users have had mixed experiences to date; those who have implemented JDF workflows successfully may see no reason to update, while those who found it too difficult or expensive may be understandably cynical.
Tharstern managing director Keith McMurtrie explains, 'New users will get the benefit [of JDF 2.0] but to get a foothold, all the vendors need to get behind it. We're all watching each other.'
Dean Anderson thinks that the new JDF will arrive in users' hands anyway as they upgrade software and replace both digital and litho equipment, and falling costs of integration will drive uptake: 'To retro-fit JDF used to cost £50,000, now it's £10,000 to £15,000 or even £5000 to £7000 with some in-house knowledge,' he says.
Not exactly a fanfare, perhaps, but two technologies that are going arrive sooner or later in the software and machines that printers buy and which both offer ways of making work faster to produce, more predictable, more consistent and ultimately more profitable. Worth watching.