Balancing act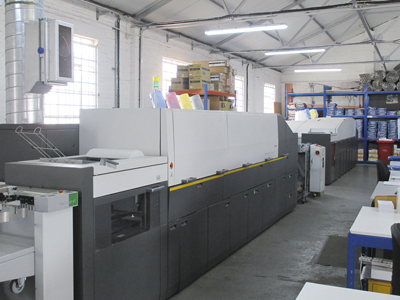 The Kodak Nexpress SX2700 and SX3000 at Impress Print
Going green isn't just worthy; it can also increase your worth as a business. Digital Printer visited Impress Print and spoke to a number of other environmentally-minded companies to find out more.
Located in Hersham and spread across a number of buildings all sporting the distinctive orange logo, Impress Print's premises cover 32,000 sq ft in total and the company employs 80 members of staff. The business has been going 28 years and it became carbon balanced about 18 months ago.
'We think carbon balancing is the right thing to do for the environment,' says Helen Floyd, sales director. 'But it's more than that and I think that the sustainable journey leads into the economics of the business. The two work so hand in hand; they work absolutely in parallel – you can't really have an environmentally-conscious business without looking at the business implications for it, which are on the whole incredibly positive. 
'The first step we took was to look at all of our energy costs/consumption and the resources that we're using, and how we can reduce those,' explained Ms Floyd. The company took a three-fold approach, evaluating its buildings, its equipment, its processes and how staff are operating the machinery. 
'We've taken a whole range of measures, from putting in LED lighting, energy efficient boilers, toilets with low-flush mechanisms; taps with a low litre-per-second flow rate,' says Ms Floyd. Impress has also replaced the roof on one of its buildings for better insulation – 'the roof was in quite poor condition anyway and the amount of energy lost was huge' and installed light sensors for night time operations and to ensure the lights go off when areas aren't being used. 
Efficient machinery
Next the company reviewed all its machinery to identify how devices and processes could be made more efficient. On the digital side, Impress looked at how it could bring in outsourced jobs and save on litho press plate and set-up costs for short runs by producing similar effects with its digital machinery.
In addition to single colour presses and wide-format printers, the company has two Kodak Nexpresses, an SX3000 and a SX2700 which it has upgraded with Kodak's sensory, digital gold, digital white and long sheet feeder options to maximise its flexibility. 'The sensory print looks very similar to a UV varnish,' explains Ms Floyd. 'On a short run it's more environmentally friendly than sending the job out to a third party [saving on costs and road miles] and the UV varnish itself isn't a particularly environmentally friendly process – so we're producing it in a far more economical way which also adds value for the client, who gets a cheaper job at the end.'
Impress Print's managing director Michael Kille with the company's versatile Nexpress SX2700
'The Kodak is used for general marketing material: brochures, leaflets, stationery, business cards, perfect bound books,' says managing director Michael Kille. 'Typically with the long sheet someone might want a six-page A4 landscape leaflet (when it folds out it's 900mm long) – that would be way over the spec of [many] machines that are out on the market. That's a job that's come directly from a B1 [litho press] and we might use that for a six-page A4 or people sometimes want dust jackets to go around books – that sort of thing. Initially we could run about a 720mm sheet and now it's been extended up to a 914mm. If we wanted to we could go a bit longer now as well.'
Impress also put in its own mailing unit. 'We started in a small way in 2012, but our unit next door we opened up in 2015,' says Mr Kille. 'We're using a Grützmacher with camera matching. We don't have to re-do anything [because of the automated checking] and we don't have to drive anywhere so we save the road miles and we don't have to go to another supplier to get it mailed out.'
With the newer machinery making production more efficient, 'clients are happier if the jobs are run faster,' notes Ms Floyd, 'and hand in hand, costs are going down, and we're looking at how the environmental aspects are being improved at the same time.'
'On any machine that we buy, we look at what's the most sustainable, including which is using the least power; a machine using more power might be printing faster, for example,' underlines Mr Kille.
Carbon offsetting
Working with the BPIF with Vision in Print, Impress reviewed various aspects of its business to reduce waste and increase efficiency. The company looked at a number of schemes when it was considering carbon balancing as 'it was really important to us that we worked with a scheme that we felt really confident was adding value,' stresses Ms Floyd. 'We thought that the World Land Trust was doing really good work and the schemes it was investing in were really viable. We discussed it with Jonathan Tame [UK country manager of Two Sides – see below] and it was clear it was the right scheme for us. That took us down the whole process of looking at our waste streams and our energy consumption – analysing everything that we're doing as a baseline and then having that sent off to an external auditor to assess our carbon footprint. Anything that we couldn't reduce any further – the residuals – then are balanced through the World Land Trust. We feel that the whole scheme works really well.'
The company carbon balances its paper as well as all the production of its work. 'Premier Paper, Antalis and Elliott Baxter are our main suppliers,' says Mr Kille. 'We also buy quite a few recycled papers from PaperBack and a few other smaller suppliers as well, like Fedrigoni.' Over in the warehouse, boxes are re-used for packaging before being recycled.
It's astonishing that Impress hasn't invited journalists in before given that their entire operation is so squeaky clean… I'm relieved that the notebook I've brought is made from recycled paper.
Impress is not resting on its laurels though. 'Our next stage is to include/incorporate all our journeys into the equation as well – we don't currently include all our transport, although we're monitoring all our transport, we don't include all our fuel costs in our balancing calculations,' explains Ms Floyd.
'We're looking at things like solar panels on the roof, how we can generate our own electricity, so that will be another stage,' adds Mr Kille.
Getting the message across
Following the introduction of Climate Change Act 2008, which was the world's first long term legally binding framework to tackle the dangers of climate change, companies have become more aware of the economic impact from carbon intensive fuels and services.
The gov.uk website advises companies that 'You can pay less tax by applying for schemes to help you demonstrate that you're operating more efficiently and producing waste that's less damaging', and with the Government putting targets on companies to reduce their carbon footprint, carbon balancing and reduction initiatives are becoming increasingly important.
'If clients can see that you're doing the right thing and helping them, then they're more likely to buy from you,' offers Ms Floyd. 'We believe that if our company is respectful of the environment and of its employees, then it will attract the calibre of people we want to employ and the funds our business needs to expand. All our staff are really on board and really behind everything that we're doing. Our aim is to get one-to-one meetings to talk to people about carbon balancing in detail, because a lot of people or companies don't really understand what it is all about.' 
'It's quite a long journey to get to where we are and I think that everything we've been doing – since getting the ISO 14001 and the FSC accreditation – is working in the same direction, which is to make us as environmentally conscious as we can be,' concludes Mr Kille.
Tips from Impress Print Services
To get the sustainability message out there is not difficult, it just needs focus and commitment
– Tell everyone what you are doing. Companies that don't will lose their competitive advantage
– Believe in what you say – no one will want to join your sustainable journey if you don't.
– Do what you say – or you will lose credibility
What are other companies doing?
Climate Partner has been engaged with carbon offsetting projects for more than 10 years. It works intensively with local project developers and develops its own projects, paying a lot of attention to the United Nations Sustainable Development Goals. 'It is important to persuade our clients to offer our solutions continuously and to inspire their clients to pay for climate neutral quality,' managing director Moritz Lehmkuhl toldDigitalPrinter. 'We are proud that we have made it from an idea in the beginning to 1000 print shops and packaging shops who offer carbon neutral printing. We receive about 500 climate neutral print orders per day – from books and brochures to global productions and much more. The subject of climate neutral printing is nowadays indispensable in the printing industry.' 
BrunelPrint became a partner of Climate Partner in September 2016.'We were looking for a point of difference compared to other printers and finishers in the marketplace,' recalls John Tugman, director of commercial print. 'A number of people could do carbon neutral paper but not necessarily carbon neutral jobs. There were some people that were prepared to do carbon neutral jobs but charged extra for it.' To be able to offer a carbon neutral product 'was quite an interesting marketing initiative,' he believed, 'which we thought would be very useful to establish ourselves and as such we basically offered it at the same price; we didn't differentiate – everything that we did from 2017 was effectively carbon neutral.
Elephant Print chose Climate Partner's Kasigu Wildlife Corridor conservation project in Kenya for its carbon offsetting
Elephant Print chose Climate Partner's Forest Conservation project: Kasigau Wildlife Corridor in Kenya for its carbon offsetting. 'We liked the project with the reforestation and it fitted quite well with our image with elephants,' explained Jason Gadd, managing director. 'Carbon balancing is becoming more important,' he believes. 'We are run purely on solar energy and I think the two things work quite well together. There is a little bit more admin to do but other than that it's fairly straightforward. 
'We got over 1000 climate neutral orders about two or three months ago now so that was a bit of a landmark,' Mr Gadd reveals. 'We're always trying to tell people about it and most people are very positive.' 
Premier Paper Group launched its carbon capture programme five years ago, and 'even at the time there was a need and a desire from companies to mitigate their CO₂ in some shape or form,' remembers Dave Jones, group marketing director. 'We're proud that roughly 10% of our customer base is now fully subscribed to carbon capture and at the beginning of 2017 we passed the £0.5 million worth of donations to the [UK-based] Woodland Trust. We run tree-planting days and we've created an area of new, native woodland – up to the end of 2016 – equivalent to 120 international-size football pitches. Our target, by the end of 2018, is to have achieved £1 million worth of donations to the Woodland Trust, and we should achieve that.' 
'We ask all our suppliers to ensure that all their fibre is from sustainable sources. We also ask – and receive from our suppliers – their full disclosed environmental audit reports each year.
Antalis became the first paper merchant to be certified to both FSC and PEFC in 2004. 'Our group is the largest producer of recycled graphic papers in Europe and we have invested continually over the years to improve the quality of recycled papers,' says environment manager Matthew Botfield,. 'As consumers increasingly gravitate towards greener choices, print buyers are increasingly choosing papers with a good eco-story and carbon offsetting is an easy way to add a good story. Examples include offsetting a paper's carbon footprint by creating new UK woodlands with the Antalis Forest Carbon Project or by carbon balancing with the World Land Trust.'
Last year Arjowiggins Graphic (distributed by Antalis) updated its environmental calculator tool to help printers, designers and businesses keep track of the environmental impact of their paper choice.
J&G Environmental waste management specialists believe that the economic – as well as environmental – imperative for recycling is unarguable. 'It now costs a printer £86.10 to send a ton of waste to landfill – potentially adding thousands of pounds to waste disposal fees at a time when companies are trying to reduce costs,' explains John Haines, general manager. 'And yet that cost can easily be reduced through good housekeeping – minimising waste in the first place, sorting waste that is created, and identifying what can be recycled, which can sometimes actually generate extra income.'
J & G advises that companies get their waste assessed by an expert waste manager; theirs will offer a free waste audit, advise on waste minimisation, reuse, storage and recycling potential.
The company practises what it preaches by operating a 'zero waste to landfill' policy at its Dorset headquarters and is closing in on recycling 100% of the waste it collects from the print industry.
Two Sides is a campaign that promotes the sustainability of print media. The organisation believes that printers should have a focus on environment and sustainability for three key reasons: to reduce their impacts and make better use of resources and costs; to demonstrates corporate responsibility to their customers; and to add value to their clients by helping them to reduce their impacts and support their corporate responsibility through the use of certified, recycled or carbon balanced papers or other initiatives to help reduce the impacts of their print use. For more information email enquires@twosides.info or call 01327 262920.
Read the full September issue of Digital Printer here. Subscribe to the magazine for free – register your details here.