Up for promotion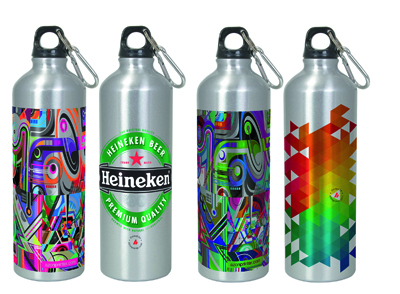 Cylindrical objects such as flasks can be printed with
Azonprinter's Rotax accessory 
Promotional items and digital print can be a marriage made in heaven, says Simon Eccles, as the items tend to be fairly small in size and quantity, often with scope for personalisation.
Elsewhere in this issue we're looking at applications in promotional print (see pages 23-28): here we're looking at the kit you can do it with. A lot of promotional items are made from plastic. UV-cured flatbed inkjets are the obvious direct digital process for this, as they bond to most items permanently, with just a primer needed for some materials. They can print multiple object blanks at once by holding them in jigs made from various materials including wood and foam rubber, with printing aligned to these via the front-end software. 
UV versatility
Large format UV flatbeds will do the job as long as the head clearance is enough for the objects – many are confined to 50mm. However, the compact and smaller format A3+ or B2 models are often more suited to this work as they tend to be purpose-built with rising/falling beds that have much larger clearances.   
Mimaki's UJF range, first announced in 2009, pioneered this sector. The original A3+ UJV-3042FX took items up to 50mm high. Since then, A2+ and other formats have been introduced, with greater height ranges, plus options for white, clear and primer inks. The most recent introductions have been Mk II versions of the UJF-3042 and UJF-6042, taking objects up to 153mm high, with up to nine ink colours (including white, clear and primer). The primer ink can also be used with the i-Sub Digital Digi-Foil cold foiling system developed and sold by i-Sub Digital.
Printing of textiles for cushions and other soft furnishings is possible
with printers such as Roland DG's Textart dye sublimation range
Roland DG sells three small flatbeds intended for similar promotional work. The A4+ VersaUV LEF-12i takes objects up to 100mm deep and prints in CMYK plus white and clear. The A3+ VersaUV LEF 200 flatbed keeps the 100mm maximum object height, but adds optional primer ink. The VersaUV LEF-300 is similar but with a larger bed of 800 x 360mm. Roland also makes several larger format UV flatbed and convertible printers that can take objects up to 150mm (VersaUV LEJ-640FT) or 200mm thick (VersaUV S-series flatbed and convertible). 
Mutoh introduced the A3+ ValueJet 423UF a couple of years ago. It followed this with the A2+ ValueJet 606-UF. Both have CMYK plus white and clear inks and can take objects up to 150mm high. 
Tweakers' delight
A few other manufacturers have produced interesting modifications of existing print engines. One of these is  Croatian developer Azonprinter, whose flatbed UV family is now sold through Atlantic Tech Services in the UK. Its entry level DTS uses a print engine adapted from a 17in width Epson inkjet, modified to take UV inks. This is mounted on a new flatbed chassis to take objects up to 400 x 600mm and 100mm high. Boxer is a modified version for objects up to 400mm high. DTS Matrix is a larger format model based on a 24-in Epson engine, with a choice of three bed sizes (maximum 1100 x 2500mm) for 200mm heights. DTS is a 700 x 600 x 1009mm printer specialised for "organic" objects made from wood, canvas and leather, as well as metals and plastics.
Bergstein in Holland takes Mimaki UJF print engines and adds "industrial" features such as anti-static ionised air circulation for improved ink adhesion. The base A3+ BE 300 is sold with 50, 150 or 300mm item heights; the BE 600 is an A2 format model with 150, 300 and 500mm depth vacuum beds and provision for robotic arm loading/unloading. The BE Viper is a 600 x 600mm model with a 300mm height capacity.
In the USA, DirectColor Systems makes a small family of compact UV flatbeds, sold in the UK via Resolute DTG. The latest DirectJet 1800z has a bed of 304 x 610mm for heights up to 381mm, while the DirectJet 7200z has a 600 x 1200mm bed and takes objects up to 300mm tall.
Machines like this Mimaki UJF-6042MkII offer A2 printing of anything that UV-cured inks will stick to and are the basis for various third-party systems
Conventionally configured UV flatbeds work best with more-or-less flat surfaces. However, some of them can print around cylinders such as bottles and tubes if you fit a rotating jig – Mimaki fittingly calls its version the "Kebab" while Azonprinter sells the Rotax for some of its models. Direct Color Systems calls its model EasyCyl and this can also take some conical sections.
Last year Xerox introduced a dedicated cylindrical UV inkjet, called DTO (for direct to object). It can print CMYK plus white undercoat onto plastics, metals, ceramics and glass up to 330mm long and 71mm in diameter. The printheads have a longer "throw" than usual, so relatively uneven surfaces can be handled. However the price of about £112,000 is four to five times that of a typical A3 flatbed. 
Introduced in 2015, Heidelberg's Omnifire 250 is a fully robotic direct-to-shape printer, with a four-axis holder to print on complex double-curved shapes with 5 to 250mm diameters. There are commercial users printing personalised and promotional footballs and muesli tube containers. It's priced at around £300,000. A larger volume and six-axis Omnifire 1000 was announced at drupa 2016.
Mug printing isn't limited to regular CMYK – fluorescent inks can also be printed as in this UV-illuminated example from The Magic Touch
Transfer time
Direct printing by UV inks is great for some types of object, but not everything. As an alternative, dye sublimation inks on paper transfers can be used with a very wide range of polyester textiles and polyester-coated solid objects. Dry toner printers can also be used to print transfers onto special release papers. 
Both dye-sub and toner transfers are used with heat presses to put the image onto the final object. Suitable heat presses are priced from a few hundred to a few thousand pounds. Some have specially shaped platens for curved items such as mugs and hats. Silicon rubber heat-transference moulds can be made for some shapes, especially wraparound edges for phones and tablets. Specialist dye sublimation suppliers such as i-Sub, Nova Chrome and Charterhouse Xpres all sell  printers, inks and polyester coated blank materials. 
Desktop dye-sub printers can cost a fraction of even the smallest baby UV printer and are fine for hobbyists or professionals wanting to test the market with low risk. For instance, the Ricoh SG1100 A4 model costs under £300 and Sawgrass sells this printer as the Virtuoso SD400 with its own inks and design software – Charterhouse Xpres sells it for £349. Sawgrass also sells an adapted A3 Ricoh as the SD800, £995 from Charterhouse Xpres.
The phone case blanks here are loaded into a Mutoh ValueJet 426UF A3 printer which offers white and clear varnish options
Moving up in size, Sawgrass sells an adapted 630mm wide Mutoh inkjet as the Virtuoso VJ618 for about £3400. An entry level 44-in Epson SC-F6200 costs about £4300 while the 1.08m wide Mutoh DrafStation RJ-900XG costs £4098 from UK distributor Colourgen.
Dry toner heat transfers have the advantage over dye-sub that they work on a wider range of materials with no need for a polyester coating. On the other hand, their pigment bond isn't as durable. 
The Magic Touch sells a wide range of transfer papers with different characteristics intended for light and dark textiles as well as solid materials. It also sells waterslide decal paper, which forms a durable bond with glass and ceramics when cured at 180°C. Other heat transfer suppliers include Amaya, with the Forever range for textile and solid media, and the Xerox brand heat transfer paper sold by Antalis. 
OKI's desktop A4 and A3 LED dry toner printers provide a good entry-level for transfers, as well as heavy card and textured papers, if you don't need speed. The ability of some models to print a white undercoat on coloured or strongly coloured substrates seems to be unique at this price point – anything with similar price and capabilities is probably an OKI with a third-party badge.
Xerox has a direct-to-object printer, able to print flasks and other cylindrical objects with CMYK plus white undercoat
Textiles
Promotional textile items such as teeshirts, sports and work wear can be printed by dye sublimation, pigment inkjet or dry toner heat transfer. Latex inks work up to a point, but UV should not be used with garments. 
Dye sublimation produces bright permanent colours on anything with a high polyester content, so it's great for low-cost T-shirts, stretch Lycra sportswear, overalls and so on. For made-up garments it's common to use dye-sub transfers and heat presses rather than direct printing. 
In addition to the low cost models mentioned above, all the main wide format suppliers (Epson, Mimaki, Mutoh, Roland DG) offer dye-sub models that can print onto paper for textiles or solid object transfers. Wider models can print several items at once, which are cut up and transferred individually.
There's often a preference for cotton for everyday garments, but dye-sub won't work with that. Direct-to-garment printers with pigment inks can be used with cotton (as well as synthetics). Heat-fixing gives a good bond, though not quite as permanent as dye-sub. Epson, DTG Digital and several others sell such machines, and Ricoh has just introduced a pair of printers, the Ri 3000 and Ri 6000, the latter having more heads for double the throughput. 
Keep it kosher
Finally, food printing with edible inks is a fast growing promotional or personalisation application, especially for iced cakes. An example is the A3+ TastyJet3 inkjet, supplied by Resolute DTG, which prints onto icing sheets or multiple small cakes up to 100mm thick. The edible inks are supplied in sealed bags and are not only EU-certified but kosher too!