The fantastic fourth?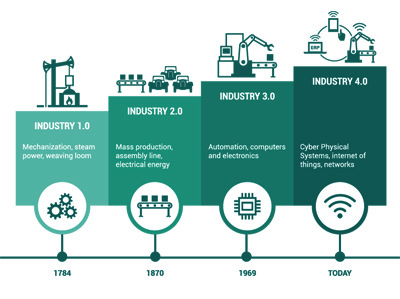 Industry 4.0 is the development of "smart production" by the merger of robotics and other automation
Visitors to drupa 2016 heard about "Industrie 4.0", announced as a "megatrend" by the chairman of the drupa committee. Since then it's become more and more of a marketing label, says Simon Eccles. 
Industry 4.0 (if we Anglicise it) started as a German federal government initiative in 2011, to understand future directions and promote computerisation across all manufacturing industries. It predicts a combination of four main trends: interoperability – people and machines working together plus the "Internet of Things; information transparency – combining lots of data input sources such as sensors to form a big picture; technical assistance – using data analytics to suggest future actions and adopting mechanical/robotic systems to handle tasks that are too boring, strenuous or dangerous for humans; and decentralised decisions in which computers decide how to do tasks and then control machines, with humans standing by to make decisions in unusual or unique cases. The last two are also being described by hipsters as 'reducing touch points.'
In some ways, Industry 4.0 (plus its variations such as Print 4.0 or Finishing 4.0 that were bandied about at drupa 2016) is just a marketing buzzphrase, a tag for any of a series of trends and technologies that have been developing for years. The printing industry as one of the original industrial revolutionaries has always been an early adopter of mechanisation, automation, new power sources, computers and data exchange. Industry 4.0 is just today's natural progression of trends that go back to the first motorised presses of Koenig & Bauer (which celebrated its 200th anniversary last year), and certainly to the computer-controlled servo motor setups of press and finishing machinery in the past 20 years, coupled with remote monitoring of all types of system for servicing requirements. Koenig & Bauer has talked about Print 4.0 at drupa and since – with new services it was even calling itself KBA 4.0 before it reverted to its original name late last year.
By the numbers
According to the Germans, Industry 1.0 was the industrial revolution we're taught about at school, that in the UK started about 1780. It used water mills and then steam engines for power, though printers with a sense of history will point out that an information revolution happened some 300 years earlier, after the 1450s, when Gutenberg invented movable type and a decent press. Industry 2.0 was the development of electrical power for motors, lighting and materials processing. Industry 3.0 is wide-ranging: basically today's world of computers and the internet, made possible by miniaturised electronics. 
Industry 4.0 then is the development of "smart production" by the further merger of robotics and other automation with online presence, data collection, sharing and analytics, all feeding back so the systems can adapt and reconfigure themselves for optimum results. The inter-connectedness on its own is also called the "Internet of Things" (see end of article). Augmented reality to support training and remote maintenance, for example, and 3D printing could also play parts in Industry 4.0. 
Let's take a look at what Industry 4.0 means for the printing industry. It's not confined to digital print, though that will play a major role. It's also going to apply to the increasingly automated and connected "conventional" processes, especially litho and flexo, and very much to finishing too.
VDMA, a German engineering trade association, had a stand at drupa that was promoting its vision of Print 4.0, with examples. It has set up a multi-vendor project to explore how to develop a manufacturer-independent open information exchange standard. Participating companies include Adolf Mohr, Bauman Maschinenbau, Heidelberg, Koenig & Bauer, Kolbus, manroland web systems, MBO, Müller Martini, Canon Océ and Wohlenberg. This is being co-ordinated by a Fraunhofer Institute research operation based in Augsberg, working in co-operation with Augsberg University. 
Altogether now
At drupa 2016, Muller Martini (MM) was perhaps the most prominent, though by no means the only exponent of the Print/Finishing 4.0 message. It showed nine interconnected  and highly automated systems as examples, producing variable magazines and books with sheet-fed offset, web offset and digitally printed elements. Its Connex automated workflow is the core to a lot of this. For example, an order for a single book from an online retailer could be digitally printed and then fed into the finishing system as part of a continuous stream of books all of different sizes and shapes. Further Finishing 4.0 demonstrations were made at the Hunkeler Innovation days in Switzerland last year.

Imprint-MIS has a Production Planning facility that covers a range of equipment
CEO Bruno Müller said Finishing 4.0 includes 'automation, connectivity, variability, touchless workflow and hybrid systems processing both offset and digitally printed products. That calls for a seamless workflow, a high degree of automation and precise machine construction. We optimally coordinate those three components and ideally enable a touchless workflow, allowing graphic arts businesses to keep their production costs low despite shorter runs and increased product variety.' 
Stephens & George in Merthyr Tydfil and Glasgow bindery Bell & Bain were the first companies in the UK to install systems using MM's Finishing 4.0 components. Stephens & George spent £4.2 million on an order in 2016 for two MM Primera stitching lines and two Bolero perfect binders. In 2017 Bell & Bain installed a new Alegro A7 perfect binding line, integrated with an existing Alegro A7 using servo-driven Motion Control Technology and Connex workflow. Andi Smart Print Solutions in Maastricht, Holland, has a complete print-to-book line controlled by a single operator, taking in a Canon Océ ColorStream 3000 inkjet web press, linked to an MM SigmaLine digital book block production line, and then on to Vareo perfect binder or a Presto II Digital saddle stitcher.
Hunkeler is already involved in Finishing 4.0 through its partnerships with the likes of MM. Tecnau, its major rival in web handling systems for digital print, also stresses its efforts in Finishing 4.0. For instance, its WebVision solution runs with high-speed inkjet printers to read content for data consistency and print quality, determining which jobs need to be re-printed without direct operator intervention. 
Push to stop
Heidelberg wasn't pushing Industry 4.0 quite so explicitly at drupa, but has talked about it quite a bit since, with its Prinect factory network acting as the central hub for this. It took press automation a stage forward with the 'push to stop' concept on the Speedmaster XL106 litho press at drupa, where the press works out its own settings,  loads itself and starts to run unless the operator decides to overrule it. This corresponds to the "decentralised decisions" part of the Industry 4.0 definition. The B2 Primefire 106 inkjet carton press has a lot in common with the Speedmaster mechanically, so will share some of this automation.   
Like other big manufacturers, Heidelberg has been gathering machine data for remote logging and support for years. The company has 3000 service experts worldwide (with 160 field engineers in the UK) and it is already remotely linked to 10,000 machines and 15,000 Prinect factory network modules. It says that data from these connections are collated so that an increasing amount of predictive and preventative maintenance is possible – among other functions the forthcoming Heidelberg Assistant tablet app for maintenance lets users assess the performance of a press and compare it with similar machines across the world. 
MIS, which is increasingly an integral part of automated print factories, is naturally part of the Industry 4.0 trend. For instance MIS developer Imprint has a system at Howard Hunt, a big direct mail litho and digital printer based in Dartford. This uses Imprint's SentinelNet and Shop Floor Data Capture module on the litho presses and finishing kit (the digital presses report back directly to the MIS). The Imprint system uses the data to automatically calculate real-time costs, modify schedules, generate documents for complex delivery schemes and also generates XML for the outside logistics company's transport management system.   
'I would say this would definitely be classed as Industry 4.0,' says Wayne Beckett, Imprint's sales & marketing director. 'Machines talking directly to software is something that a lot of our customers are striving for. Cutting out manual operator input on jobs is the only way you can get accurate costings back and as we know, with margins so tight at the moment, our customers need this information.'
Internet of Things
Rather like Industry 4.0, the Internet of Things (IoT) is a catchy marketing phrase that puts a new label on developments that have been emerging for years. What it means is that more and more 'things' are being connected to networks (via WiFi, Bluetooth, Near-Field Communications, etc.), and can send readings, information and status, and receive operating instructions and upgrade modifications. These may be individual sensors such as cameras, sheet counters, temperature/humidity/vibration/strain gauges and the like. They may be online directly or they may report to a central machine controller that in turn communicates with a wider network. 
In the printing industry, this is nothing new. Remote monitoring of machinery and software has been around for 20 years at least, though it became more common as the Internet and wireless communications made it easier to set up and operate. Increasingly, the monitoring and even controlling is being done via custom apps for smartphones and tablets. 
While IoT certainly has its benefits, there is concern in security circles that the hacking implications haven't been thought through enough. Properly monitored systems can be secured, but in a world where even the factory air conditioning and the operators' coffee machine is online, it's going to be an uphill task just to identify it all.