Daily despatches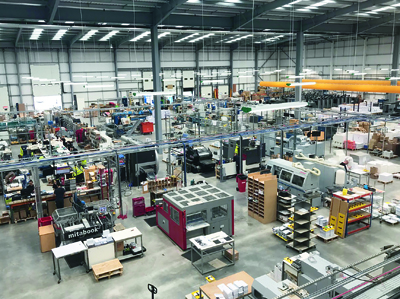 Turnaround can make the difference between getting the order or not, which is why Precision Printing/Where The Trade Buys is set up for speed
Very fast turnaround and delivery has become the norm, as customers look for same-day and next-day fulfilment of print jobs. Andy Knaggs looks at what trade printers have done to meet these demands.
In the digital world, as soon as something has been created, its distribution and consumption can be as good as instantaneous. The print sector, however, deals in the physical realm – actual paper and actual geographical distance between the point of production and the point of consumption. The M1 motorway is nobody's idea of a super-fast highway.
Print is both competing with and complementing digital media, and so recent years have seen increasing demands for printed output to reach its destination quicker – to shrink the geographical distance and overcome the physical constraints of lead and distribution times.
'It's important to be as flexible as possible as an industry,' observes Gary Peeling of Precision Printing and trade service Where The Trade Buys. 'Printing sits alongside other media and customers don't know or care how long it takes. Sometimes fast turnaround and delivery is the difference between having the revenue or not – if it cannot be shipped today, the customer won't place the order with anyone – and that's why it's important to charge a premium for this service.'
We are all becoming more accustomed to the "Amazon Prime" style of online retailing, where delivery of purchases is fast-tracked. These gears are not going to be reversed. 
Printers are going to have to find ways of fulfilling their customers' needs within ever-decreasing timescales, and the quality had better remain the same.
Instant gratification
'We live in a fast-paced world where "I want it" means "I want it now", so I think it's extremely important that printers learn to adapt to market expectations; particularly trade printers as they're dealing with the expectation of their client and their client's client,' says Steve Wenlock, managing director of Flexpress Trade.
There is, in consequence, a mushrooming cadre of print service providers that are offering same-day or next-day delivery on some, or all, of the orders that are placed with them. Typically, the service stipulates that if an order is received by a certain time and if the customer is prepared to pay a premium, then the print provider will prioritise the job and guarantee delivery within the agreed timescale. 
This requires much more from the print supplier than a manager simply telling the guys on the production floor that 'this one needs to get done first'. It is both a technological and a cultural challenge, and, according to Aron Priest of Solopress, now part of the Europe-wide print giant Onlineprinters Group, is especially difficult if your print business is not historically geared towards fast turnaround and delivery. Solopress began life in 2005 by offering 24-hour turnaround, which was very rare at the time. It therefore has an advantage over other print providers that are now looking to meet these kind of time demands, says Mr Priest. 
'If you're going from seven-day lead times to having to get work out the same day, that's a big change, and human beings and change is never a good mix. Lots of companies have adapted to it though. Everyone in Solopress gets the urgency that's placed on every order that comes through the door for next-day. We don't have to put big flags on them; it's how we do work and how we get it out,' he says.
At Where The Trade Buys, jobs do have flags marking them as those that need to be fast-tracked. 'We have a customer loyalty programme called Rock Stars, and the fast-track jobs are called Divas, with a logo that's very visual on the floor, and in the digital workflow too,' explained Gary Peeling.
The way these jobs are managed and prioritised is illuminating. Mr Peeling's organisation has developed the 'Dynamic SKU' within its SiteFlow proprietary workflow (which is now part of HP's PrintOS software portfolio). 'The workflow understands a fixed SKU of course, but dynamic means that a SKU can be built from the information that the customer puts in at the front end, based on finishing and volume, and that can be linked into a dynamic workflow,' he continued. 'We group all the jobs that have  the same material and finishing, and batch those together in real-time. It makes keeping track and delivering on these fast-track projects much more viable.'
Triggered teamwork
When a fast-track order comes in, it acts as the trigger to produce all those jobs that have similar attributes, such as paper type and finishing. 'A lot of thinking went into that,' says Mr Peeling. 'It's the second generation of scheduling in SiteFlow. It also allows us to plug in the outputs from our MIS, so we can have one schedule, whether the job is placed online or booked conventionally.'
Mr Peeling contends that the system avoids situations where a newly-arrived quick turnaround job has a negative effect on the general flow of production of "standard" jobs; the Dynamic SKU pulls many more jobs through the system simultaneously. It is clear that automation at as many touchpoints as possible is a key technological aspect of successfully delivering on fast-track jobs. 

Solopress's Aron Priest: fast turnaround is both a technological and a cultural challenge
Returning to the cultural side of this, most companies are not in the position of having fast turnaround in their DNA, as Solopress might claim to have. For those others, the people factor is critical. They must embrace what the business is attempting to do. 
'Technology is an enabler, but it doesn't guarantee success,' says Adam Carnell, managing director of Bluetree Group. 'What really makes it happen for us is the team and their buy in to what we are trying to achieve as a company. Our fastest turnaround is 23 minutes and 17 seconds – that's from the customer placing the order online to having the product ready to ship. We hold that as testament to our team's incredible ability to work as a unit throughout the company. The team are the most important contributors to our success and so it's really important that we get that team spirit right.'
Bluetree Group introduced a same-day dispatch option on standard business cards, and short and long run flyers and posters around 18 months ago. Recent upgrade options enable delivery before 10.30am and midday. Some 43% of customers are exercising these options now.
It is important to have an understanding of the kinds of products that will be wanted quickly, and which can be most efficiently accommodated within the workflow.
One way to go about offering these services is to start small, discover and prove, and then grow. This was how Flexpress Trade approached it. 'Initially, we had no idea what was necessary, so we just started to turn on the tap very slowly. We barely advertised because we couldn't risk a sudden upsurge in work that we couldn't cope with. Since then, we've effectively had to reinvent the business. We're currently working with process engineers and lean consultants and progressively automating more and more,' says Steve Wenlock.
After the fast-track job has been produced and made ready for dispatch through a combination of technology and people, the final part of the link is of course the delivery itself. There is a large number of overnight carriers available, while same-day city services are less plentiful but growing. Gary Peeling believes that many mainstream overnight providers will extend their services to same-day. The best advice seems to be to start building these relationships through tests and see what works best for you. 'Everyone is beholden to a courier system – you name it, couriers can come up against it. We are really happy with who we use and we've got a good success rate,' says Aron Priest of Solopress. On the other hand, Mr Wenlock comments that 'it's virtually impossible to get a reliable overnight carrier.'
At the end of the day, the provision of same-day/next-day delivery is about keeping promises, so it is important not to promise the earth. Keep in mind that, if there are problems, your customer will expect you to overcome them, even if, as Flexpress Trade has experienced, that means personally hand-delivering jobs half way across the country. 'Trust is everything: when trust dies, so does the relationship,' as Steve Wenlock confirms.  
Interview with Onlineprinters CEO Michael Fries
What challenges were involved in putting your same-day and 24-hour shipping services in place?
The crucial point at the back end is to have excellent IT processes and clear production priorities with short handover times from production step to production step. Due to the vast number of jobs, we can automate and streamline our production and easily include same-day print jobs.   
How did you go about identifying what was necessary?
Our focus is to meet customers' needs. We know the market, we know the customers, we live e-commerce. Solopress, for example, offers special Saturday delivery if customers need their products for a big event at the weekend. Furthermore, Solopress provides a delivery management app in order to enable customers to check the delivery's status and if necessary adjust time and place for the delivery. That is contemporary, service-oriented thinking.   
How much of it is about technology and how much is about your culture/people?
These aspects go hand in hand. The challenge for our people is to get out the orders on time, in the case of Solopress 85% the very same day. Their motivation and spirit makes this work. They are supported by the right technology, which prioritises the orders, creates transparency about order status and work to do, and makes the production as efficient as possible.   
What are the key aspects to get right and what are  the pitfalls?
The right mixture of breadth of offering to be relevant to the customers, and selection, in order to be able to produce the products with very short delays and a high degree of automation, is the key aspect. This has to be supported by the right IT systems to make it work rapidly, especially in prepress.
What lessons did you learn from implementing this?
The time-sensitive production of top quality printed products was perceived very well. Onlineprinters as well as Solopress is constantly expanding the same-day print option to other products such as labels on rolls or brochures in quantities from one copy. It is crucial to listen to customers' demands and provide top service on every level.