The colour of money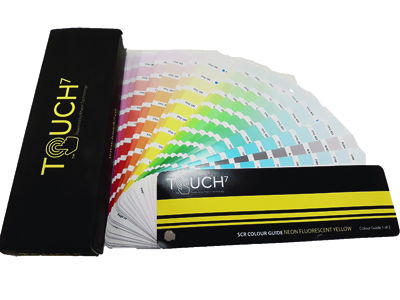 Ricoh has produced swatch books to show how its neon yellow and pink can be combined with CMYK on the Pro C7200 press
Colour management is a vital part of any workflow, providing you can tie the different parts together. Nessan Cleary looks at how it's becoming increasingly integrated in current digital presses.
To some extent, colour, like beauty, lies in the eye of the beholder, with each of us seeing slightly different colours. Yet colour is able to subtly provoke feelings and emotions. It's easy to see the romance of a delicate pastel, the warmth of certain reddish tones and to feel hope embodied in bright yellowy tints. But, of course, those of us that work in print know that in reality these colours can be measured and specified precisely in LAB values and that the people paying for the print expect to see exactly the same colours on the last sheet as on the first. 
When it comes to colour management, all printing processes use the same basic approach of linearising the press to a known standard and manually checking the printed output with a spectrophotometer. But Colin Osborne, Konica Minolta's head of colour management, says that whereas a litho operator will monitor and adjust TVI (tonal value increase, what used to be referred to as "dot gain") curves and ink density to hit LAB values, digital devices rely on ICC profiles to tune the device's capability to a particular substrate.
These ICC profiles are specific to the substrate in use as well as the toner or ink and of course to the individual device. Graeme Wappett, Canon UK's head of Consultancy and Software, says: 'Within the profile all the mapping exists to say that if you want to produce a given colour on that paper then this is the recipe.' Most printers will come with a set of ICC profiles for common stocks and most vendors will offer help in training customers to make their own profiles.
Mr Wappett points out that apart from the printer and spectrophotometer, you'll also need a RIP, which could be a hardware controller but in the case of a production digital printer is more likely to be included with the DFE (digital front end) print server.
He notes that the RIP process will take the intended input and convert that to the machine's raster pattern, saying, 'In that RIP process there's usually a whole lot of other maps which are to do with the screening set or what curve levels are being set by the user and what density levels are being set and the output from these components are influenced by the ICC profile.' He adds: 'Usually the RIP software will have translation tables to deal with particular colours like spot colours or Pantones that the RIP can manage and find the right CMYK values for the reproduction of it.'
EFI's Fiery FS300 Pro DFE drives the Xerox iGen 5 amongst others, with sophisticated spot colour mapping and control
Staying spot-on
So the combination of the RIP, the ICC profiles and a linearised press is generally enough to ensure that the first sheets of any given job match the desired colour. The tricky bit is making sure that this is also true of the last sheet. This can be a challenge on some digital presses, particularly toner-based production printers, which can suffer shifts in colour over the course of a day that can be noticeable when printing longer runs  as the machine heats up, particularly in more humid environments. The standard approach has been to pull sheets during the run to check the printed output with a spectrophotometer. But nowadays most high-volume production devices deal with this by having built-in colour sensors, which are also starting to appear on many mid-volume machines, to monitor the colour and adjust where necessary.
Ricoh, for example, has just announced a new mid-range series of digital production presses, the Pro C7200. Eef De Ridder, director of Commercial Printing for Ricoh Europe, says that one of the main improvements over the previous models is its ability to maintain consistent colour output over longer runs with inline sensors for auto calibration. The C7200 has also gained auto adjustment to improve registration.
Heidelberg also sells a version of this press as the Versafire EV, but with an option to use Heidelberg's Prinect as a front end. The advantage here is that the Prinect Digital Cockpit can be linked directly to a full-blown Prinect workflow so that jobs can be easily routed between digital and offset printing. Dry toner printers generally offer a much larger colour gamut than offset printing but Chris Matthews, Heidelberg UK's business manager for digital equipment, says that it's a simple matter of creating a profile for the digital devices to emulate a specific offset press. So if a customer has several Speedmasters then Heidelberg can help develop profiles for each and the digital press can switch between those profiles from one job to the next. Mr Matthews says that profiles can be used to emulate specific media such as uncoated litho stocks, where an offset press leads to a matte effect that can otherwise be difficult to achieve with toner on uncoated stocks.
Konica Minolta has developed a dedicated module, the IQ-501, which is part of its Colour Care scheme and can be used with different printers. It automates a number of adjustments for higher quality and shorter delivery times. It has a spectrophotometer that can be used to calibrate a press and to ensure consistent colour output. It also includes two cameras for setting the registration for both sides of the paper within a couple of sheets.
This module is supplied with a number of presses, including the new AccurioPress C3080 series that was announced earlier this year. André Statkus, Konica Minolta Europe's product manager for these presses, explains, 'As there is no longer the need for measurement or numerical input, high quality print products are constantly available with fewer manual settings and less human errors. In addition, thanks to real-time monitoring and adjustments during printing, high quality is ensured, contributing to cost reduction through less waste but also improving customer trust.' 
The IQ-501 is also used on Konica Minolta's AccurioPress 6136 series of monochrome production printers, where it's used to set up the density adjustment as well as the registration. 

Konica Minolta's AccurioPress C3080 series is an entry-level machine that can be coupled with the IQ501 ColorCare unit
Xerox has used inline spectrophotometers in its high volume presses, starting with the iGen series. However, it's worth noting that the front-end server also has a part to play. Last year, EFI released a new Fiery DFE for the iGen5. The Xerox EX-P 5 Print Server is based on the latest Fiery FS300 Pro platform, which has a number of colour-specific features, such as improved handling of spot colours, including the ability to overprint up to 127 spot colours per page. It allows operators to prioritise spot colour edits on a per-job basis for customers' specific colour preferences. The EX-P 5 Server includes Fiery Color Profiler Suite 4.9, software for calibrating a Fiery-driven iGen 5 press for G7 (a US colour standard) compliance. 
Xerox also caters for its less expensive models, offering an Automated Color Quality Suite as part of the Performance Package for the Versant 180. This has an inline spectrophotometer to provide fully automated colour management. 
Going beyond CMYK
Many toner-based digital presses, including the Kodak Nexpress and Xerox iGen, have a fifth colour station (or up to seven colours in the case of HP Indigo). In some cases the fifth colour can be used to extend the colour gamut or for spot colours such as Pantones, which can be useful for hitting certain brand colours or in some packaging applications.   
However, this extra channel is mostly used for adding special effects such as white or clear toner. So, for example, the new Ricoh C7200X/ Heidelberg Versafire EV has a fifth colour station that can be used for special colours such as neon pink and yellow toners, as well as clear or white. Mr De Ridder confirms that this allows users to print white and CMYK in a single pass, which was not possible before, and adds, 'We can print the white first and the CMYK on top of it in a single pass, which gives a much enhanced capability because it's only one click. Also, having white first gives a much better grading on the colours.'
Heidelberg's Chris Matthews says that most customers take the fifth channel when its available and use it to differentiate their offering and that the front end simply handles these effects as an additional spot channel.
Continuous colour
Ultimately improvements to the colour management are all about enhancing the productivity of the press. Most of today's production presses claim much higher productivity rates than their older counterparts despite the engine speeds not being much faster. In large part the difference is down to the way the colour is monitored and adjusted automatically to maintain consistent colour without having to stop the press or to calibrate it for every job.   
However, not everything is automated – you still have to linearise the press and to check that it remains calibrated over a given period – typically once a day. You also have to make sure that you have the right ICC profile for the substrate in use, and that you have the matching profiles for your screen (and proofing device, for litho print) if you want to soft-proof. Finally, and most importantly, you also have to check that your spectrophotometer is calibrated regularly – most vendors recommend doing this once a year.