Picture this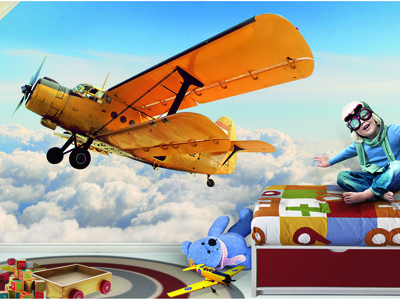 Photo gifts don't have to be small. Wallcoverings like this can be printed using HP latex or aqueous inks
Sending film to a lab to be turned into a packet of prints is a thing of the past, but today's digital technologies can offer much more interesting products. Simon Eccles looks at some.
Anyone who has a smartphone today is carrying a decent quality camera around with them all the time. Research says 1.2 trillion photographs were taken last year, about 19% up on 2016. Photography, if not quite ubiquitous, is instantly available to more people now than at any time in history and from their point of view, photographs are free and instant – no film or processing to worry about, no waiting, and images can be posted to online social media in seconds for all your friends to admire.
Although only a fraction of those trillions of photographs are ever turned into printed form nowadays, you only need a tiny percentage of that tiny fraction to make a decent business proposition for companies that offer tempting products. Some of these products are print in the traditional sense, while others are digitally-driven engravers or lasers that can etch images into unusual materials. 
The digitally printed photo book and calendar market was the first to develop in the early 2000s, but that market is now dominated by a handful of very big players who have invested fortunes in batteries of digital presses and binding lines, plus sophisticated software that links into retailers' online storefronts. Their economies of scale are a barrier to entry for smaller printers, though there's still business to be had by working with local customers or specialist sectors such as schools and sports clubs. 
However the more unusual photo products may still be profitable for smaller scale operations, as the really big printers regard them as too small or too fiddly to bother with. 
Difference dividend
Because customers see these products as special and different, they're willing to pay decent margins for them, which is refreshing in an age of commodity commercial print. They may be ordered as commemorations (weddings, birthdays, new babies, other life events), decorations, or as giftware for commercial promotions or special presents. Often the volumes are low, which means a company may be able to start with slower, lower cost production equipment at first, then re-invest into faster stuff to handle more volume as demand increases. 
Here we've compiled a list of photo products that can be produced taking digital images as a starting point. In most cases those images can be standard photographs, though in some cases a 3D modelling technique may be needed. 
Photo books
Any digital print-on-paper process can be used, though dedicated aqueous inkjet photo models give the highest quality if speed isn't needed, with HP Indigo presses popular when higher throughput is needed.   
Binding systems are the key here, with hot melt or PUR perfect binding being common. Dry toner and gloss papers can weaken the binding, so special techniques may be needed. PUR costs more but is stronger. 
Layflat books have folded single-sided sheets glued back-to-back, with the fold forming the spine hinge – various manual or automated machines are available, from manufacturers such as Maping (the Fastbind FotoMount series supplied by Ashgate International), Kisun (Tarrant Machinery), On Demand Machinery (Perfect Bindery Solutions), CMC Italia (Tarrant Machinery) and Mitamax (IFS). 
For ultimate strength and life, thread sewing is often used. This can be done by traditional hand methods for small quantities, but automated systems are available for higher throughout. For instance Smyth and Meccanotecnica can supply these.
The same inners, however bound, can be given wraparound covers which would require a long-sheet printer for the popular A4 landscape format, or hard covers – easy preformed covers and binders are available from the likes of Unibind and Muro. 

Photobooks are a perennial favourite. Lay-flat binding via finishing systems from suppliers such as Ashgate adds value
Calendars
A popular application that's inevitably seasonal, calendars can be folded and wire stitched like booklets, but spiral wire binding is most popular. They are easy to print and cut, so the main issue is punching – a half-moon cutout for the hanger is needed – and the wire binding itself. 
GBC, James Burn International, Renz and Muro are popular suppliers of punches and wire binders, with the Renz range going up to high throughput industrial machines, but check that you get one with the half-moon punch. 
Acrylic photo blocks can have a paper print laminated to the rear face, with special ultra-clear double-sided laminate. These work with any print process, but a hand laminator with a decent depth is handy – look at Vivid's EasyMount range.
Flat solids
There's so many of these that we'll list them all together. These include: serving mats, drinks coaters, phone and tablet cases, commemorative plaques, ceramic plates, ceramic mugs (which need special cylindrical heat presses for dye sublimation), table tops, wall panels, architectural glass, ceramic tiles, and many others.
Typically these may be made of wood, metal, acrylic or ceramic. You can print on these directly with a flatbed UV printer, or you can use dye sublimation heat transfer as long as the blank has a polyester coating to receive the dye. Uncoated media can be used with some toner or inkjet thermal transfers, such as themagictouch's range.
Direct printing of smaller items can be done by UV-curing inkjets, typically in small flatbeds built for the purpose such as those from Azon, Bergstein, Mimaki, Mutoh, Roland DG. Table tops and similar will need a large format printer, for either dye sublimation transfers or direct UV printing. 
Dye sublimation or other heat transfers work well with flat surfaces. Those with rounded backs and edges can be done with specially profiled silicon rubber moulds in heat presses. Direct UV inkjets can also cope with modestly curved surfaces.
Engraving
Digital text and images from the same sources as print, as well as CAD programs, can be converted into mechanical engravings on metal, wood, glass or acrylic. Applications include commemorative plaques, jewellery, hip flasks, signs, trophies, name tags, phone and tablet cases.   
Roland DG will be the most familiar supplier for most printers. Its range of EGX engravers starts with the EGX-30A desktop machine for under £3000 including software. Roland's Metaza MPX-95 (£3999) is a "photo impact" machine, which hammers the image into metal. 
Laser cutters can also act as engravers on suitable materials. Basic models can cost around £1000, though the sky's the limit. Look at Epilog, HPC and Trotec for starters.
Routing
Routing is similar to engraving, but tends to be for larger, thicker pieces such as wood or acrylic blocks, though sometimes metal or glass can be cut too. These can be carved into shapes and not just given a shallow engraved image. The digital method involves a heavy spindle-driven routing head, usually on an X-Y cutting table. Dedicated digital routers are available, though some of the lighter-duty cutting tables have options to take a spindle drive for a router. 
 
Dye-sub printed phone cases remain popular, such as these from themagictouch
Textiles
T-shirts have long been popular subjects for photos and other images. However, depending on the process, there are plenty of other textile applications in photo goods. 
Umbrellas, flags, banners, tablecloths, bar towels, cushion covers, pillows, tea towels are among the almost endless list of textile applications. 
Dye sublimation is widely used and still growing for printing onto textiles with a high polyester content. This can be done directly or by transfer from pre-printed paper, both methods requiring a heat fixing roller, plate or press. 
For natural fibres such as cotton there are relatively new "pigment" inks and printers with special platens, intended for direct printing. 
Canvas prints
Canvas prints stretched onto box frames continue to be very popular. We've listed these separately to other textiles as the canvas usually has a print-receptive coating for either aqueous or solvent inkjets. UV-cured will work too.
Light boxes
These are frames with internal lighting, with a textile print stretched over the front. It's easy to replace the textile with a new one. Dye sublimation or UV printers can be used. Retail stores and exhibitions are increasingly popular applications thanks to the low transport costs and durability of textiles for shipping (most are recyclable too so that's extra green points, though only if they actually are recycled and not just thrown away after use), but they could be sold for domestic homes, restaurants or hotels.
Wallcoverings
Bespoke wall coverings using digitally printed paper or fabric are growing in popularity, mainly for commercial premises, but with some attempt to sell them into homes for murals, children's bedrooms and the like. Roll-feeding is a necessity, meaning Xeikon dry toner or HP Indigo liquid toner presses. Wide-format inkjets can be used but strong solvent and UV inks tend to be avoided for restaurants, schools and hospitals and aren't a good idea in a domestic environment either due to the possibility of uncured ink components escaping over time. Aqueous inks may not be tough enough for busy environments. HP promotes its tough, water-based latex especially for wall coverings and makes much of the fact that its inks make it suitable for applications where UV isn't.
Lenticular
Lenticular prints go in and out of fashion. In a photo products sense they can be used for stereoscopic '3D' effects, or simple flips between two or more images, or basic animations. When backlit they can make very
effective signage, though the novelty of animation is now beaten by fully digital signs.
Preparation of the images, pre-press and printing are all quite difficult. 
The plastic lens material can be printed directly, or a paper print can be laminated onto the back. Very high resolutions are needed for small formats, precluding most digital processes. Large formats (with larger lenses) can be printed directly by UV inkjets. 
DP Lenticular is the biggest supplier of lens material in Europe, and its website has some handy tips for software and printing. 
3D printing
Although it hasn't lived up to the hype of a 3D printer in every home, the technology is settling down to do very useful work in engineering and movie props and the like. A photo application is 3D scanning and colour printing of real world objects in full colour, especially people but also pets such as dogs and cats, even hamsters if you insist. People will pay £200 or more
to see themselves or their pets immortalised in resin. 
You'll need a camera booth filled with a lot of digital cameras and flashlights, all linked to fire simultaneously. For output 3DS (3D Systems) or Stratasys can supply full-colour 3D printers at prices from about £20,000. Mimaki has just introduced its own full colour 3D printer and there's one due at distributor Hybrid soon, though it will cost about £200,000. You may be better off outsourcing the print stage – and perhaps the image capture too – until the business builds up.